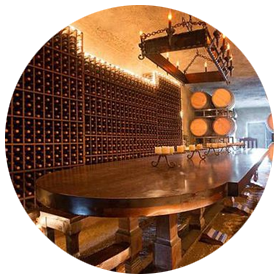 Luscious Aroma of Aged Wine
Venture down the steps from our tasting patio to be transported to a different time as the luscious aroma of aged wine envelopes your senses as you step through the door into our breathtaking wine cave. Built into the side of the hill beneath the tasting room, our wine cave boasts a solid wood banquet table stretched beneath a medieval style chandelier, surrounded by walls of wine racks and soft lighting.
The wine cave is an excellent spot to enjoy your wine tasting with friends or to take a few pictures. Guests are welcome to enjoy their La Finquita wine down in the cave during winery hours, just ask to have it unlocked for your enjoyment.